Facilities
PAREKH EYE HOSPITAL offers...

Laser Refraction Surgery
Topography, Pachymetry
Lasik services
Customized Wavefront lasik
Presbyopic lasik
Bladeless Lasik
Surface & transepithelial Bladefree Lasik
Phakic IOLS
Corneal Rings and segments KAMRA

Cataract Services, Phacoemulsification, Multifocal IOLs, Foldable IOLs.
Soverign Phaco unit with FX technology. Latest for cataract surgery
IOL master. Gold standard for IOL power calculation
Optikon A-scan, Optikon Pulsar Minimum Stress Phacoemulsification Vitrectomy unit
Carl Zeiss microscope
Toric Unifocal and Toric Multifocal IOLs
Latest range of IOLs from across the world

Glaucoma Services.
Takagi Slit-lamp, Appasamy Slit-lamp, Perkins applanation tonometer, Schiotz tonometer, Carl Zeiss Humphrey full field Perimeter,
Optical coherence Tomography
Heine fundoscpe & retinoscope, Pachymetry
Zeiss gonioscope. Nd:yag laser
SLT laser
Glaucoma surgery including valve implantation & tubes

Retinal & Macular Services including Lasers
Volk diagnostic lenses of 20D, 90D, 78D, Slit-lamp,
Keeler Indirect Ophthalmoscopes,
Lasers for photocoagulation, TTT and PDT
Vitrectomy Unit with Cryo, Endolaser for complex Vitreoretinal Surgery
Carl Zeiss Microscope

Cornea Services
Transplantation Lamellar and Full thickness

C3R
Corneal Inlays and Ring implants

Ocular Surface Services, Dry Eye
Amniotic transplantation.
Punctal plugs temporary and permanent

Oculoplastic & Squint Services
Maddox rod, Maddox wing, CAM stimulator,
Synaptophore

Paediatric Services
Cataract, glaucoma, squint services speacially designed for children any age
Contact lenses, IOL and exercises synaptophore
Functional Operative room with full preparedness to handle a child of any age
Separate play area

Computerized eye check including Refraction
Auto-refractometer, ETDRS & Snellen's visual aquity charts, Jaeger charts, Teller charts for children, picture charts, Lensometer, Keratometer, Topography, Pachymeter, comfortable examination chairs

Contact Lenses
Regular use, disposable, toric, bifocals, cosmetic coloured contact lenses

Pre-employment & employee checkup
RAF ruler, Maddox rod, Maddox wing, Randot Stereo Acuity charts, Colour vision charts

Ocular trauma
THE COMPLETELY A/C DAY-CARE HOSPITAL offers...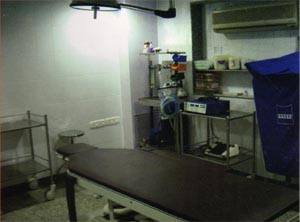 Operative Room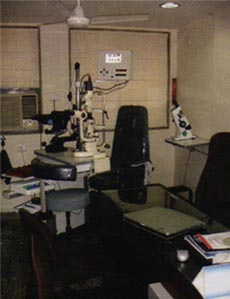 Consulting Room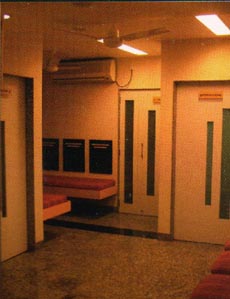 Waiting Room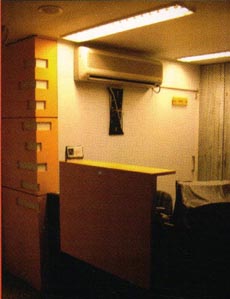 Reception